Private Clients – Language Instruction: Terms and Prices
You will find an overview of All on Board's terms and prices for Berlin below. All on Board also offers training in many European cities. Please contact us for rates for your city.
Rates per unit *
(courses usually meet for 2 units per session):
| Number of Participants | Gross price per person per unit | Gross price per person per course |
| --- | --- | --- |
| 5-9 | € 10.50 | € 323.09 |
| 4 | € 12.33 | € 369.92 |
| 3 | € 15.37 | € 461.10 |
| 2 | € 21.46 | € 643.80 |
| 1 | € 39.73 | € 1,191.90 |
* Gross Price (16% VAT)
Discounts
If you refer someone to us who becomes a paying customer you get a 10% referral discount. You can refer to us as many people as you want. For every participant you get another 10%.
We also have 10% discounts for pensioners, the unemployed, and students.
The best thing is that discounts may be combined! In this way, you might end up getting your course for free!
Happy Hour Specials
Contact us for our Happy Hour Specials.
Billing
You will be billed for an entire course at the beginning of the course.
Materials
Books are NOT included in the price. You can buy them from us or on your own.
Terms & Services
If you would like more information or a personal consultation, contact us at info@allonboard.de.
No high/low season rates
No registration fee
No placement check fee
No final exam fee
No blended learning fee
Customized seminar materials are included in the price.
Course books may be obtained from All on Board at the normal retail price.
One lesson unit consists of 45 minutes.
A Course Evaluation completed by participants follows the completion of every Step and is used as a target-performance analysis of the expectations, targets and the things actually learned.
All on Board
Theresa Gorman
Managing Director
Seestr. 27
13353 Berlin
Tel: +49 (0)30 - 39 83 39 93
Fax: +49 (0)30 - 39 83 39 92
info@allonboard.de
www.allonboard.de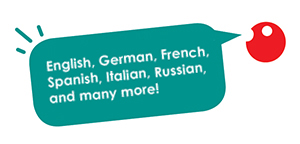 Reference:
"We had an open and friendly atmosphere, diverse selection of topics and an ever patient instructor."
Course participant from the Ministry of the Interior