Corporate Clients – Language Instruction & Teaching Methods
We offer training in English, French, German, Italian, Japanese, Russian, Spanish and many more.
Language Instruction
Tailor-made language instruction for your company
Language instruction at All on Board addresses the special needs of your organization and employees. We work closely with our clients to develop the lesson format, syllabus and course targets, and we ensure the Course Evaluation is used to adjust future lessons.

Course Types: Learn the way you want! Every single one of our courses is tailored to fit your company's needs.

We offer the following course types:
Group Courses (30 teaching units per course/STEP):
A maximum of nine participants meet regularly over a period of time for group lessons. The syllabus is agreed upon together with the client before training begins. This determines the course focus and allows All on Board to offer customized training, such as General Business English or Business English with various topical focuses.
1-1 Coaching:
1-1 Coaching focuses completely on the individual needs of the learner. The content and format of the lessons, as well as the frequency, are based on these needs. With this extremely flexible format, you can achieve a maximum learning result in a short period of time.
Language Instruction "Clinic"
"The Clinic" offers your employees a 30-minute opportunity to speak directly with an instructor from All on Board. This is intended as a supplement to weekly group training.
1-5 Day Intensive Workshops:
A maximum of nine participants meet for language instruction over a short period of time, usually 1-5 days. The aim is to thoroughly and efficiently work on a topic, chosen by the client.
Course content: Learn what is relevant for you
In order to meet your professional demands, All on Board offers courses with various topical focuses. The courses convey important technical vocabulary, address typical, everyday situations and enable the participants to express themselves adequately in every business situation they may encounter in the target language. That's how All on Board guarantees individual and demand-oriented learning.
Teaching Methods
Interactive Lessons
All on Board greatly values interactivity. Communication between the instructor and the participants is encouraged just as much as among the participants in the group. The maximum number of participants is limited to nine per group which increases the effectiveness of the lessons.
Our Instructors
The instructors at All on Board are highly-qualified, experienced language trainers who are native speakers or have native-speaker fluency. They are competent, prepare the lessons thoroughly and create a relaxed learning atmosphere. Additionally, the instructors and management regularly attend further education seminars and courses in order to acquire new teaching methods and techniques and improve existing teaching methods.
Quality of Courses
In order to ensure a high standard of quality, All on Board's management regularly conducts observations of lessons. The instructors receive constructive feedback about the lessons, which enables us to meet the needs of the clients in a professional manner.
Feedback from Participants
We value suggestions and comments from our clients and welcome at any time during the course. At the end of each Step, all course participants have the opportunity to evaluate the content and methods employed in the course by means of a Course Evaluation.
Blended Learning
Our integrated learning method allows us to combine classical face-to-face training with modern forms of E-Learning. This way you can have easy, flexible access to our media and learning material: You receive grammar and vocabulary homework online, which you can work on whenever you choose and adjust your learning pace to the requirements of your everyday work rhythm. Your responses to questions will be corrected automatically and you receive your feedback right away. Your trainer can easily follow your learning progress and therefore assist you more effectively. In addition, you will have the opportunity to communicate with your trainers and other course participants directly through this platform.
In case you miss a class, you can keep up to date on the lessons, download the learning material and make up for the content you have missed comfortably from home.
Our Blended Learning platform is free for all our participants!
This is just a sample of our most popular courses. Should you have a special request, please contact us today and arrange a consultation meeting.
All on Board
All on Board GbR
Seestr. 27
13353 Berlin
Tel: +49 (0)30 - 39 83 39 93
Fax: +49 (0)30 - 39 83 39 92
info@allonboard.de
www.allonboard.de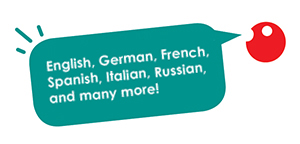 Reference:
"The lessons were very interactive, which made the learning in the group a lot of fun. The intense exchange was especially valuable to me."
Course participant from Afterbuy