Our Team
Andrew
Andrew is a CELTA-qualified English Instructor who has been living in Berlin since 2006. Born and raised in the south-west of England, he graduated from Manchester Metropolitan University with a BSc in Psychology and Science & Technology Policy. After working as a web developer in diverse business areas for ten years he moved to Berlin in search of new adventures and a more people focused profession. When not teaching, he enjoys keeping up with the latest developments in science and technology, programming and cooking (especially Indian). He speaks German and is learning Turkish.
Annie
Annie is a CELTA certified English teacher from Los Angeles. She specializes in Business English and test preparation for University students. She gained her first experience as an English trainer in Buenos Aires, Argentina and Spanish is her first foreign language. She has lived in Berlin since 2012 and is fluent in German. Before moving here, she worked for 11 years in New York as a director in the documentary film and TV industry
Barbara
Barbara is a Goethe DaF qualified language trainer from Germany. She studied French and Italian philology. In her view language is an important element for a social togetherness and for a successful integration. Communication is very important to her. She likes Berlin because it is huge and open-minded. In addition to that it also provides lots of cultural opportunities.
Carlos
Carlos Martinez has been teaching English in Berlin and the surrounding areas since 2007.  Since beginning his teaching career, he has completed a TEFL and FTBE accreditation and regularly attends teacher-training workshops to learn more.  After completing his Bachelor of Liberal Arts, he moved to New York City where he worked as a day trader and then later ran his own dog walking and training business.  He's originally from New Orleans, a city that is known for its friendliness and easygoing culture. He believes that this comes through in his teaching style and helps to create a comfortable and fun learning environment.
Corinne
Corinne was born in Italy and has lived near Lake Maggiore, in Venice, Pavia and Rome.
She graduated in Philosophy with honors from the University of Pavia in 2014. She completed her research doctorate in Philosophy from the Sapienza University in Rome in 2009. She speaks French, German and English.
She's been a trainer of Italian and Italian culture in Berlin since 2009, where she currently resides.
She is a first level sommelier, she loves walking and has a passion for books and music.
Justin
Justin comes from the USA, having lived in Minnesota, Washington State and Arizona. He went to Northern Arizona University where he obtained his BA in English Linguistics. He taught English in Japan for two years before coming to Germany where he received his Certificate in English Language Teaching to Adults with the highest grade: Pass A. He is currently working on his Master's in Applied Linguistics and English Language Teaching. He has been teaching English full-time since 1997.
He loves travelling and learning languages-he comfortably converses in seven and is always working on new ones!
Kinbuc
Kinbuc is a qualified TEFL English trainer from South Africa who has a B.A. in motion picture medium with a major in television production. He likes meeting new people from all walks of life and likes helping people to develop new skills. He takes great pride in watching his students successfully use new language skills. When not teaching he plays some guitar and he is currently learning to play the bagpipes. Kinbuc moved to Berlin because he loves that Berlin is a multicultural society with people from all over the world who live and work together in unity.
Linda
Linda O'Grady is a qualified English teacher with close to eight years' experience. She grew up in Dublin, Ireland, & has been living in Berlin since 2014. Linda graduated from Dublin City University with a Bachelor's in International Marketing & Languages & from the Dublin Institute of Technology with a Master´s in Advertising. She worked as a copywriter in some of Dublin's top advertising agencies before becoming an English teacher. In her free time, Linda enjoys travelling, cultural events & blogging
Mariana
Mariana was born in Mexico but grew up in Texas. After discovering that teaching was the way to go, she got a Bachelor's degree in Language Studies and Linguistics and then a Master's degree in Education with a focus on Educational Technology at the University of Massachusetts Amherst. She started teaching English children 10 years ago and then switched over to adult learners. She has been in Berlin since 2015 and has been teaching business English. She loves to travel, spend time cooking, baking and during the summer she makes her own ice cream.
Nico
Nico is a qualified DaF/DaZ trainer who studied linguistics. He likes being a teacher because you can meet people from all over the world with different backgrounds in this job. Lessons can also be a form of intercultural exchange. In his free time, Nico likes making music with his friends, going to the cinema, theatre or visiting cultural events. Nico lives in Berlin because in this city you can be whatever you want to be. You can also find the whole range of life in this city, from hipster Kreuzberg to the well-off people in Zehlendorf.
Peadar
Peadar has been living in Berlin since November 2007 and working in teaching since 2009 after having completed the Cambridge CELTA teaching qualification. He is currently working on DELTA. He teaches and has taught in many well-known global multinationals and state organizations in the fields of finance, multi-media, IT and e-commerce. Prior to teaching he worked in IT for IBM (6 years) and Siemens (1 year). In Dublin, Ireland he worked as a social worker dealing with troubled families and children. He has also spent two years living in Brittany, France (199-2001). Peadar bases all of his lessons on the real-world needs of his students, he prioritizes encouraging students to take a pro-active approach to their English learning and works to ensure his lessons are enjoyable and relevant, interactive and challenging.
Scott
Scott grew up in California, USA. After studying Psychology, he worked as a project manager for different pharmaceutical companies in San Francesco. In August 2014 he moved to Berlin to obtain his CELTA certificate and begin his teaching career. When he's not teaching or working on his German, Scott enjoys surfing, making music, and discovering everything this great city has to offer.
Tania
Tania was born and bred in London and is a CELTA and DELTA qualified English as a Foreign Language teacher. She started teaching General and Business English in Japan to both adults and children in 1997 and in 2003, taught English at a university in Mexico and also taught Business English to local businessmen. When she returned to London, she became the Principal of an English Language School for 5 years until she became a mother. She now enjoys both teaching English and giving teacher training and support to other English teachers in London.
She has travelled extensively and her knowledge of other cultures and her own language learning experience (French, German, Spanish, Japanese and a little Greek) certainly gives her an insight into the different problems people can encounter when they come to learn English. She gets a great deal of satisfaction out of helping them identify and overcome these stumbling blocks.
She has a very wide range of interests including photography and homeopathy, but music, dance and discovering great food have always been at the top of the list.
Theresa
Theresa comes from a small town in rural New York state, which made her want to travel. She has taught English in Bosnia and Herzegovina, Macedonia, Bulgaria, Czech Republic, Poland, Saudi Arabia and most recently in Berlin for several years. She holds a Bachelor's degree in English, Diploma in Teaching English to Speakers of Other Languages, and a Master's degree in Professional Development for Language Education. When she isn't teaching, Theresa enjoys making comics, hiking and music.
Thorsten
Thorsten studied History, Philosophy and Journalism In Göttingen, Lisbon and Berlin and graduated with a Master of Arts. After this studies, he worked as a business editor in Düsseldorf and other places. He has been working as free-lancing PR-journalist and lector since 2003. He gained his EUROLTA qualification and has been working as a German trainer since 2013.
Willa
Willa is a CELTA-qualified language teacher from the United States, who moved to Berlin to work as an English teacher and translator (English/French/German). She is an avid traveler and for the past three years, she has worked in France, New York City, and most recently in Ho Chi Minh City, Vietnam. She has taught general English, exam preparation, and academic English classes to adults as well as young learners. In Berlin, she is looking forward to continuing to develop more experience teaching business English. She is also a classically trained violinist with a double B.A. in French and music (violin).
Yasin
Yasin is a qualified German and English teacher. He grew up bilingually in Germany and the UK. Early exposure to languages got him interested in this field. He not only enjoys teaching languages, but also tries to learn new ones himself. At the moment he is concentrating on Spanish. Yasin loves travelling, and apart from teaching in the UK he has also spent a year in the classrooms of Vietnam. He hopes to travel South America once his Spanish is up to scratch.
All on Board
Theresa Gorman
Managing Director
Seestr. 27
13353 Berlin
Tel: +49 (0)30 - 39 83 39 93
Fax: +49 (0)30 - 39 83 39 92
info@allonboard.de
www.allonboard.de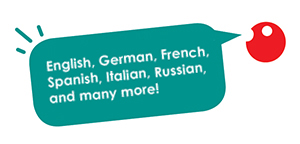 Reference:
"Finally I have learned and understood the right use of tenses, this was exactly what I expected. Business vocabulary was also new for me and it is great to know some more practical words."
Course participant from Brands4Friends