Corporate Clients – Steps to Success
First Meeting:
Goals that your company would like to achieve in the language lessons are set together in a face-to-face meeting. We identify your company's specific needs as well as determine group size and basic course structure.
Placement Check:
Next, All on Board conducts an online Placement Check for the target language of the course participants. This ensures that the lessons are best suited to the level of the participants.
Needs Analysis:
All on Board conducts an online needs analysis with the participants to find out their specific needs.
Syllabus:
Based on your company's needs and demands, All on Board develops a corresponding syllabus and the course begins.
Initial Feedback:
We conduct an initial feedback session after eight lesson hours. If necessary, All on Board will enact any changes you request which ensures that your educational investment is profitable.
Observed Lessons:
All on Board sends an observer to the course. There are two reasons for this: All on Board guarantees that our customers' demands are being professionally met. Additionally, our instructors receive constructive feedback about their work.
Final Exam:
We offer a final exam on request, which checks the knowledge gathered and qualifies the students for the next Step.
Certificates:
Every participating course member receives a certificate, if applicable, upon successful completion of the final exam.
Course Evaluation:
At the end of each Step, the course participants provide feedback on the course by means of an anonymous Course Evaluation. This unbiased evaluation forms one of the most important foundations for the continued quality of our language instruction.
Extension:
After the feedback is received, we use this to plan the next STEP! This model ensures successful language instruction at the highest level. The participants gain proximity to language and culture that is useful for them in everyday business situations.
All on Board
All on Board GbR
Seestr. 27
13353 Berlin
Tel: +49 (0)30 - 39 83 39 93
Fax: +49 (0)30 - 39 83 39 92
info@allonboard.de
www.allonboard.de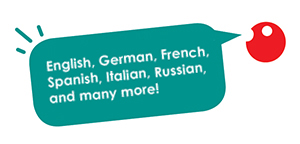 Reference:
"Refreshing style of learning English."
Course participant from eBay