Private Clients – Language Instruction: Teaching Methods
We offer training in English, French, German, Italian, Japanese, Russian, Spanish and many more.
Language Instruction
Course Types
Group Courses (30 teaching units per STEP):
A maximum of nine participants meet regularly over a period of time for group lessons, usually once or twice a week for 90 minutes.
1-1 Coaching
1-1 Coaching focuses completely on the individual needs of the learner. The content and format of the lessons, as well as the frequency, are based on these needs. With this extremely flexible format, you can achieve a maximum learning result in a short period of time.
For prices and latest offers, please click here
Teaching Methods
Interactive Lessons
All on Board greatly values interactivity. Communication between the instructor and the participants is encouraged just as much as among the participants in the group. The maximum number of participants is limited to nine per group which increases the effectiveness of the lessons.
Our Instructors
The instructors at All on Board are highly-qualified, experienced language trainers who are native speakers or have native-speaker fluency. They are competent, prepare the lessons thoroughly and create a relaxed learning atmosphere.
Additionally, the instructors and management regularly attend further education seminars and courses in order to acquire new teaching methods and techniques and improve existing teaching methods.
Quality of Courses
In order to ensure a high standard of quality, All on Board's management regularly conducts observations of lessons. The instructors receive constructive feedback about the lessons, which enables us to meet the needs of the clients in a professional manner.
Feedback from Participants
We value suggestions and comments from our clients and welcome at any time during the course. At the end of each STEP, all course participants have the opportunity to evaluate the content and methods employed in the course by means of a Course Evaluation.
All on Board
All on Board GbR
Friedrichstr. 68
10117 Berlin
Tel: +49 162 6618142
info@allonboard.de
www.allonboard.de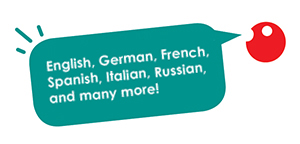 Reference:
"The group size was perfect. The trainer always helped."
Course participant from Brands4Friends